Educational Bengal Cat History
At Bengalacious, LLC, we raise and sell purebred Bengal kittens. Our team in Alexandria, Virginia is passionate about sharing the joy of having affectionate pets with fellow animal enthusiasts. We are also knowledgeable about Bengal cat history, which is useful as we do the cat breeding process. Review the helpful material below.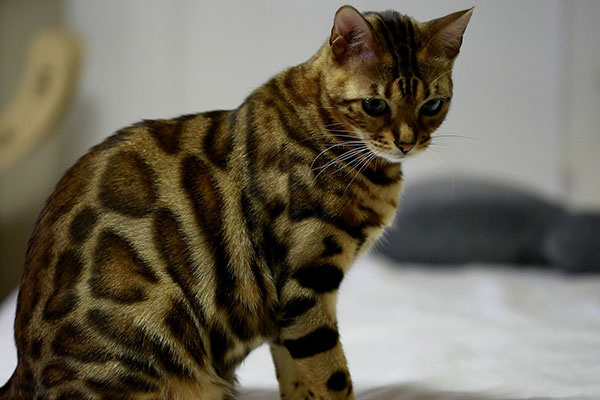 Meet Our Adorable Bengal Cat King
Explore the fascinating nature of Bengal cats and kittens with the help of Bengalacious, LLC. Our professionals have done intensive research on the Bengal cat history to effectively execute our cat breeding tasks. Reach out to our team in Alexandria, Virginia to get to know our Bengal cat king and queen.

History of the Bengal Cat Breed
The Bengal cat breed's official origin began in 1963 when Jean Mill, a breeder in Covina, California, had an Asian leopard cat (ALC; scientific name: Prionailurus bengalensis) for a pet. She eventually mated her ALC with a domestic cat, and the two produced a litter in 1965 (breeding domestic cats with wild ones usually produce infertile offspring, but amazingly, this litter produced females that were fertile). In the same year (1965), Ms. Mill unfortunately became widowed, and her breeding venture was put on hold.
In 1973, a geneticist named Dr. Willard Centerwell began breeding ALCs and domestic cats in his study of feline leukemia. ALCs are resistant to feline leukemia because they do not have the feline leukemia virus built into their system. In 1980 (after his studies), Dr. Centerwell gave some of his F-1 (first-generation kitten from Asian Leopard) female kittens to Jean Mill, and she picked up again with breeding and bred them with a male orange short-haired domestic cat and a male brown spotted tabby.
While Jean Mill and Dr. Centerwell were fascinated with the idea of breeding wild and domestic cats, that sentiment was not shared with the cat community as a whole. ALCs don't make good pets because they live in solitary and are reclusive, rarely allowing humans to touch or stroke them. They are carnivorous hunters and have a reputation for ferocity and inability to be domesticated.
Traits of the Asian Leopard Cat
The ALC is one of thirty little cat species. They have a build similar to the domestic cat but with longer legs and a longer back. They have a rather small head, a short thin muzzle, large eyes, and a thick 11- to 14-inch tail. Their body length is between 25 to 32 inches and they weigh between 7 to 15 pounds (males are a bit heavier than females).
Their lifespan averages between 10 to 15 years. Because of their stunning markings, they have been hunted in the fur business. They have a spotted or ringed tail with a black tip, four black bands running from the forehead to the back of the neck, breaking up into elongated spots on the neck and shoulders, frequently forming a broken chain. They have white throats with the underparts being spotted on a white background.
Their body markings can be solid or rosettes and sometimes show marbling. They are nocturnal in behavior and prefer forests and brush as their habitation. They make their dens in hollow trees, caves, and under large roots and can live in a wide variety of environments. They also possess a large variety of abilities, such as swimming and agile climbing.
It took generations of breeding to produce the sweet-tempered, more predictable breeds that are appropriate for living with people. Although Ms. Mill mated the orange short-haired domestic cat and the spotted brown tabby, there have been several different hybrids of domestic cats used to produce the stunning attributes of the Bengal, including the Egyptian Mau. This breeding has had the goal of creating a healthy and tame cat with the wild-looking, high-contrast coat we know as the Bengal today.